mega villa projects in
the works
plus Million Sft completed
projects
plus Million Sft upcoming
projects
APR Group's incredible pursuit for excellence to deliver living experiences of the highest quality has been recognized and awarded by some of the most prestigious institutions in Hyderabad. These awards not only showcase our commitment to be the best builders in Hyderabad but also strengthen our resolve to provide homes of impeccable comfort and convenience to our customers.
We won the award for the 'Most Preferred Builder of the Year' at the Times Business Awards, Hyderabad, presented by Shri G Kishan Reddy Garu, Minister of Tourism India.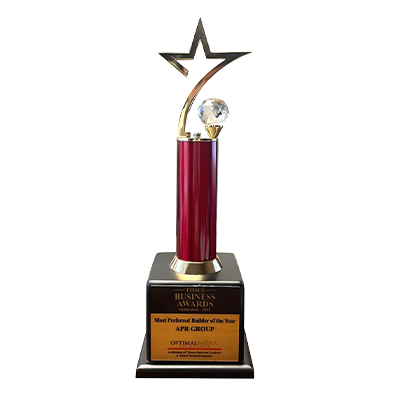 TIMES BUSINESS
AWARDS 2022
Award received from the esteemed Governor of Telangana
Dr. Tamilisai Soundararajan Garu by APR Group's Management Team.
Best Amenities Premium Mid-Segment Villas
for APR PRAVEEN'S GRANDIO
TIMES BUSINESS
AWARDS 2021
The world is rapidly changing and so are the needs and expectations. The availability of land has decreased, for obvious reasons and this has increased its demand over the years. The desire to buy a home comes along with the thought of making the right investment.
Read More »
Relocating to a new address is a change that can be challenging. You will have to mingle with new neighbours, find your child a new school and set of friends, manage your commute to the workplace, figure out your grocery store, healthcare facility, and many more.
Read More »
నేడు ప్రతి ఒక్కరూ విద్య, వైద్య, ఉద్యోగ మరియు వ్యాపార అవసరాలకి అనువైన నగరాలలో నివసించాలని కోరుకుంటున్నారు. అందుకే APR నిరంతరం అభివృద్ధి చెందుతున్న హైదరాబాద్ మహానరంలో, ల్యాండ్ మార్క్ లాంటి ప్రాజెక్టులను నిర్మిస్తోంది.
Read More »