mega villa projects in
the works
plus Million Sft completed
projects
plus Million Sft upcoming
projects
APR Group's incredible pursuit for excellence to deliver living experiences of the highest quality has been recognized and awarded by some of the most prestigious institutions in Hyderabad. These awards not only showcase our commitment to be the best builders in Hyderabad but also strengthen our resolve to provide homes of impeccable comfort and convenience to our customers.
We won the award for the 'Most Preferred Builder of the Year' at the Times Business Awards, Hyderabad, presented by Shri G Kishan Reddy Garu, Minister of Tourism India.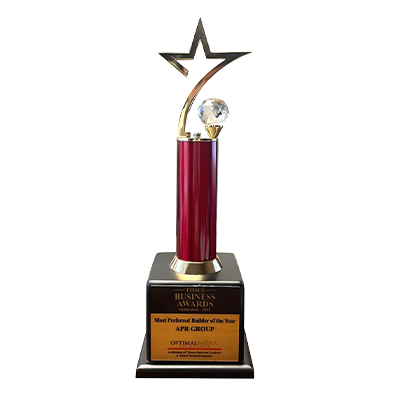 TIMES BUSINESS
AWARDS 2022
Award received from the esteemed Governor of Telangana
Dr. Tamilisai Soundararajan Garu by APR Group's Management Team.
Best Amenities Premium Mid-Segment Villas
for APR PRAVEEN'S GRANDIO
TIMES BUSINESS
AWARDS 2021
We, humans, are social species whose life has evolved in the habitat we live in. Over the years, as we expand our horizons, the space where we live continues to play a pivotal role in determining our lifestyle and health.
Read More »
అవధులులేని ఆనందాలకి … హైఎరియా (2&3 BHK apartments ) అభివృద్ధికి ప్రామాణికంగా… మీ ఆనందమే లక్ష్యంగా…హైదరాబాద్ అన్ని రంగాలలో అభివృద్ధికి ది బెస్ట్ గా కొనియాడబడుతున్న
Read More »
అన్ని రంగాలలో ఆకాశమే హద్దుగా అభివృద్ధి చెందుతున్న నగరం హైదరాబాద్. నగరంలో అభివృద్ధికి ఆలవాలమైన ప్రదేశాలలో, నిర్మాణాలను చేపట్టి, ఎన్నో ప్రతిష్టాత్మక ప్రాజెక్టులతో రియల్ ఎస్టేట్ మరియు నిర్మాణ రంగాలలో తనదైన ముద్ర వేసి, నిబద్ధత నిర్మాణ విలువలతో వినియోగదారుల మన్ననలను అందుకుంటుంది APR గ్రూప్
Read More »